Walk through the doors of the Fundy Geological Museum and enter an ancient world. Our amazing exhibits offer you the chance to see some of the oldest dinosaur bones in Canada. Get an close-up look at the creatures who reigned supreme in this region millions of years before we arrived! Check out the world's first reptiles, some of the planet's earliest dinosaurs, giant dragonflies, and bug-like creatures as big as baseball bats! Fossil fanatics and gem lovers will fancy our exhibits. At the Fundy Geological Museum, you can explore Nova Scotia's mineral treasures and prehistoric fossils that are discovered in nearby sea cliffs along the Fundy Shore everyday!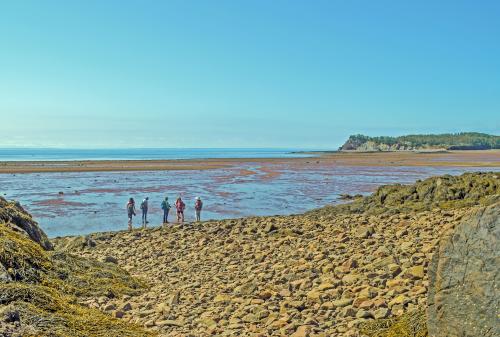 Have you ever wondered what fossils and mineral veins look like before they're cleaned up and put on display in a museum? Or perhaps you've heard of the Bubbling Tides at Wa'so'q and want to explore them with an expert? Join Fundy Geo staff and explore the beautiful shores and sea floor along the Bay of Fundy to get an up-close and personal view for yourself!
Explore charming Parrsboro by day then settle into a cozy cottage for the night at The Sunshine Inn where you'll start the next day with a locally inspired gourmet breakfast before heading to nearby Wasson Bluff for a one-of-a-kind horseback. Friendly guides from Spirit Reins Ranch will introduce you to your equine partner, and an expert from Fundy Geological Museum will accompany you to an active dig where you will sieve for fossils! Enjoy refreshments on the breezy ocean floor and ride in the footsteps of Canada's oldest dinosaurs!