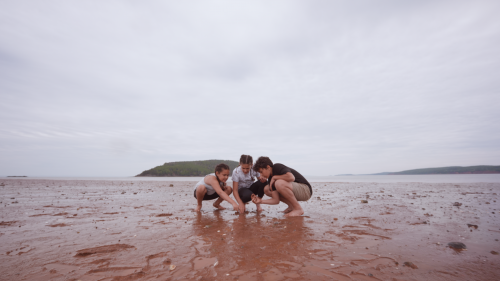 Fossil Family Fun at Five Islands is FULLY BOOKED for the 2022 season and will return summer 2023. 
Fossil Family Fun at Five Islands is the ultimate family experience for those interested in science and exploring the outdoors! 
To start your experience with us, meet us by the beach at the Five Islands Provincial Day-Use Park, a scenic lookoff with a perfect view of the Bay of Fundy tides and a scattering of mysterious islands. Here you will be greeted by palaentologists from the Fundy Geological Museum. They will be your companions, ready to guide you on an adventure through time back to an era when the Bay of Fundy region was full of sand dunes and large dinosaurs walked on Earth. 
Get your hands dirty creating your own unique fossil cast and learn to use the tools of palaeontologists. Then, pause for light local refreshments before taking a journey with your personal guides to explore the ocean floor and learn the secrets of the towering cliffs. Your guides will bring the vibrant sandstone cliffs alive and introduce you to fossils, rocks, minerals, and bustling tidepools. 
This experience involves a hike on moderate to challenging surfaces, and is suitable for youth ages 7 and up.
Pricing Guide (taxes not included)
$205 – group of two
$245 – group of three
$275 – group of four
$315 – group of five
$350 – group of six
To book Fossil Family Fun at Five Islands, visit www.fundygeomuseum.ca or call
1 (866) 856 DINO(3466)