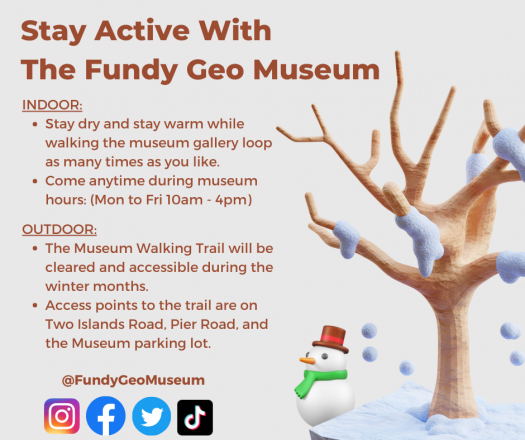 Stay Active with the Fundy Geo Museum this Winter!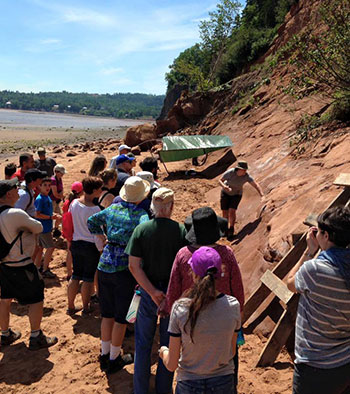 Discover the secrets of the Bay of Fundy geology & tides
Join us and explore the secrets of the Bay of Fundy, get hands-on at Partridge Island and experience the bubbling tides or sign up for Tidal Reveal: Dig for Canada's Oldest Dinosaurs!

Who We Are
The Fundy Geological Museum displays an ancient world and some of the oldest dinosaur bones in Canada. Meet some of the ancient creatures that lived here millions of years ago: the world's first reptiles, early dinosaurs, giant dragonflies, an ancestor of frogs and a sow bug-like creature as long as a baseball bat. So many great fossils!
Explore mineral treasures of Nova Scotia exposed when the great Fundy tides washed away the sea cliffs. See a collection of beautiful amethyst and agate gem stones.
| | |
| --- | --- |
| Sunday | Closed |
| Monday | 10am – 4pm |
| Tuesday | 10am – 4pm |
| Wednesday | 10am – 4pm |
| Thursday | 10am – 4pm |
| Friday | 10am – 4pm |
| Saturday | Closed |
Storm closure:
The Fundy Geological Museum will be closed today due to the weather. (02-03-2023)
Admissions
Admission to Gallery
Adults $8.50
Youth & Students $6.00
Seniors $7.50
1 Adult Family (2+ children) $17.50
2 Adult Family (2+ children) $24.00
Group (10+ people, one transaction) $7.25 per person
Children 6 & under Free
**Prices do not include HST. For special rates please call 1 866 856 DINO (3466)
Be social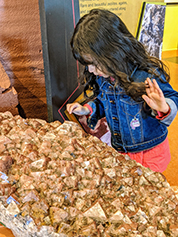 Subscribe
Sign up for Fundy Geo Museum's quarterly eNewsletter
Tour the gallery
Launch our 360 virtual tour