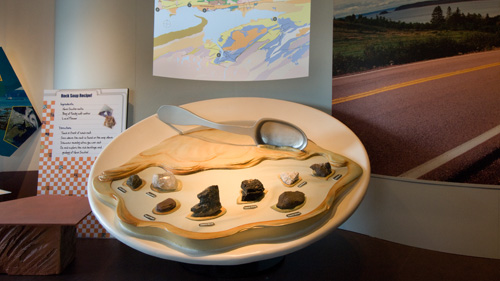 The Fundy Geological Museum is the world centre for experiencing geological history interpreted from the unique features of Nova Scotia's Fundy region. It is operated by the Cumberland Geological Society as part of the Nova Scotia Museum.
Established in December 1993, the Fundy Geological Museum attracts over 22,000 visitors annually from around the world. The Museum includes an exhibition gallery, lab space, multi-purpose room, gift shop and administration offices.
In our gallery, an ancient Nova Scotia is revealed. Come see what this province was like 200 million years ago when the dinosaurs roamed. View our diverse collections of local minerals as well.
Pay us a visit and stay for awhile to discover our beautiful region along the northern shore of the Bay of Fundy. Here, you can connect with an ancient past and discover a spectacular present, complete with the world's highest tides, breathtaking vistas and opportunities for active outdoor adventures.