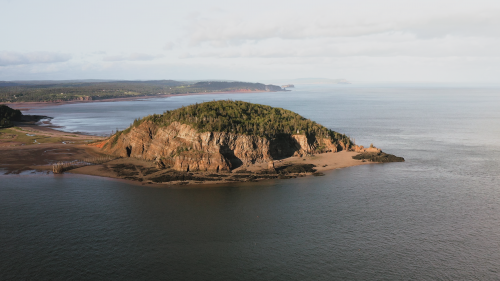 Fundy Geological Museum digs deeper to immerse visitors in the magic of the Bay of Fundy
(Parrsboro, NS) - The Fundy Geological Museum is nestled along the ever-changing shores of the Bay of Fundy, in the heart of the historic village of Parrsboro, NS. The museum is the world centre for experiencing geological history interpreted from the unique features of Nova Scotia's Fundy region.  
Tourism in Nova Scotia is transforming and evolving to engage visitors in more authentic and sustainable ways. Travellers want hands-on, local experiences; ones that take them 'off the beaten' path to unique landscapes, where niche opportunities to explore await them.
In 2020, the Fundy Geological Museum delved into its own experience with Earth Rhythms, an award-winning Nova Scotia based experiential tourism company. Experiential tourism or regenerative tourism creates a deeper, emotional connection to an area for visitors, and supports environmental sustainability by using low impact transportation such as walking, using reusable or washable items, partnering with local businesses and artisans, and using local products or talent, which in turn generates economic benefits for local host communities.
The museum, working with Earth Rhythms, has created two experiential tourism packages for 2022. Fossil Family Fun at Five Islands Provincial Park was launched in June and is focused on providing the ultimate outdoor family adventure, immersing children and adults in the beginnings of the Age of Dinosaurs alongside the museum's palaeontologists, directly on the ocean floor of the Bay of Fundy.   
The second experience, Shoreline Sensations at Wa'so'q, will inspire guests to set aside the day's concerns and truly connect with the landscape, the history, and their place in it. The setting for this authentic experience will be Wa'so'q/Partridge Island, a sacred place to the Mi'kmaq on the edge of the world's highest tides. Shoreline Sensations at Wa'so'q gives guests the opportunity to immerse themselves in local tastes, smells, and surrounding sounds. Guests will be visually delighted to witness the unique 'bubbling tides' phenomenon, unique to Wa'so'q. The Fundy Geological Museum has partnered with the Wild Caraway to create a drink and delectable refreshments for guests, with locally foraged ingredients that is exclusive to this experience. Shoreline Sensations at Wa'so'q will launch on August 20th, with dates to follow in September and October.
The history of this region is carved into the rocks and shoreline like a mural. The geological treasures beneath the tides, that help us unravel the earth's past, are ready to be discovered. The sacred legends and mysteries, so well known by locals, are stories waiting to be shared with a wider audience. As the Fundy Geological Museum embarks on its 30th year of operation in 2023, the museum team has been inspired to partner with local experts and artisans and move forward with this new way of creating and sharing the region's history and discoveries.
For more information, visit: fundygeomuseum.com
Follow #FundyGeoMuseum socially:
Instagram/Facebook @FundyGeoMuseum
For interviews with the Fundy Geological Museum and more information, contact:
Genna Varner
902 216 1221
genna.varner@novascotia.ca