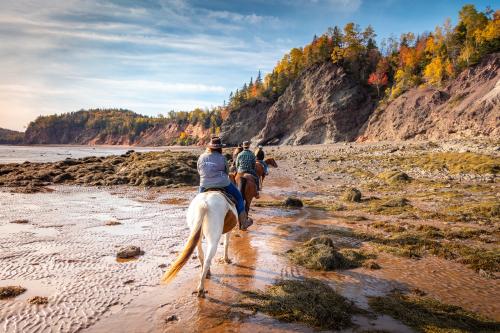 Enjoy a cozy overnight stay in Parrsboro then take a Bay of Fundy horseback tour where you'll ride in the footsteps of Canada's oldest dinosaurs!
Available 2023 season dates:
AVAILABLE Check-in Thursday May 25, check-out and horseback experience Friday May 26
SOLD OUT Check-in Friday June 9, check-out and horseback experience Saturday June 10
SOLD OUT Check-in Friday September 8, check-out and horseback experience Saturday September 9
SOLD OUT Check-in Saturday October 21, check-out and horseback experience Sunday October 22
Pricing:
Group of two: $815 + hst
Group of Three: $1,138 + hst
Group of Four: $1,461+ hst
Experience includes:
Overnight cottage accommodations at The Sunshine Inn, including a locally inspired breakfast.
3-hour horseback tour with Spirit Reins Ranch along the cliffs of the beach at Wasson Bluff, with a rest stop at Fundy Geological Museum's active fossil research site.
Exclusive opportunity to sieve for fossils with a museum expert.
Light refreshments served on the ocean floor.
Accommodations:
The Sunshine Inn is nestled in a lush green valley on the outskirts of picturesque Parrsboro. Guests will enjoy a relaxing 1 night stay in a 2-bedroom cottage with two queen beds and a futon couch. A locally-inspired breakfast is included.
Check-In: 3pm-9pm Check-Out: 10am
Address: 4487 Highway 2, Parrsboro, Nova Scotia B0M 1S0
Phone: 1 902 254 3135 | 1 877 70 MOTEL
Email: thesunshineinn@gmail.com
Website: thesunshineinn.ca
Horseback Tour:
Please meet at the Fundy Geological Museum at 9:45am morning of the tour; our guides will lead you to the trailhead.
Directions from The Sunshine Inn to Fundy Geological Museum
The 3-hour expert led horseback tour will begin at 10am with Spirit Reins Ranch
Dress for the weather, including hats, boots, sunscreen.
What you can expect:
Explore charming Parrsboro by day, then settle into a cozy cottage for the night at The Sunshine Inn, less than 5 minutes by car from restaurants, shopping, and amenities. Start the next day with a locally inspired gourmet breakfast before heading to nearby Wasson Bluff for a one-of-a-kind horseback ride past scenic Bay of Fundy cliffs. Friendly guides from Spirit Reins Ranch will introduce you to your equine partner, and an expert from Fundy Geological Museum will accompany you to an active fossil dig where you will sieve for dinosaur bones. Enjoy refreshments on the breezy ocean floor and ride in the footsteps of Canada's oldest dinosaurs!
Conditions:
Due to the nature of small businesses, book package at least one week in advance of the tour date. Children under 10 may not ride on trails. All trail rides are led by a guide. All guests will be given an introductory orientation to safe horse care and handling before every trail ride. Please note that tours are tailored to the guest's riding level and ability. Safety and liability waivers must be signed by all guests (including guardians for minors) before tours begin. Please advise of any allergies upon booking. The horseback tour is recommended for Intermediate to Advanced riders (rate yourself using the guidelines below).
Novice/Beginner: Has ridden a horse 0-5 times, 0-3 riding lessons, no formal shows, or competitions.
Intermediate: Has ridden a horse consistently for over a year, more than 4 lessons, competed in shows or events.
Advanced: Has ridden more than 3 years consistently, has obtained rider levels through Provincial Equestrian Federation or competed for more than 2 years in shows or events.
Cancellation Policy:
Please allow for and give 48 hours' notice for cancellation on all pre-booked packages. We reserve the right to cancel due to bad weather and provide a full or partial refund. Charges will apply for guests who do not adhere to the cancellation policy (20%).
Searching Availability...