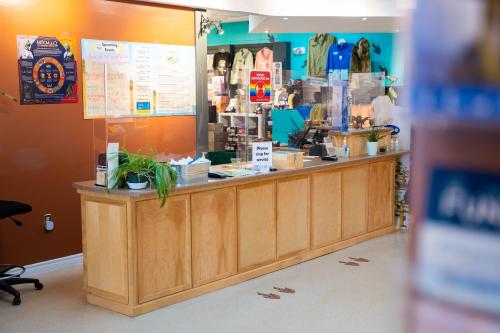 We ask that all visitors follow the guidelines described below. 
Staff reserves the right to ask anyone not following the Visitor Code of Conduct to leave the premises. 
Food and drink are not permitted in the gallery
Be courteous and respectful to other visitors, volunteers, and staff. The Fundy  Geological Museum does not tolerate abu se or harassment (physical or verbal), or discriminatory language of any kind towards any person for any reason. 
Any actions or symbols that support or commemorate current or historical hate groups are not permitted inside the Museum or on its premise.
Follow Provincial and municipal laws and regulations governing fossil, mineral, and artifact collecting. Fossils are protected in Nova Scotia and may only be collected  with a Heritage Research Permit issued by the Province of Nova Scotia. We kindly ask  our visitors to notify staff of any new discoveries they have made in Nova Scotia.
All third-party contractors must provide proof of liability insurance to the Fundy Geological Museum. Third party contractors include but are not limited to: individuals    completing work at the Museum, third-party recreational groups, and tourism operators.  Proof of coverage is to be provided to the Chief Operations Officer prior to or immediately  on arrival to the Museum premises.
Visitors will refrain from entering the non-public workspaces of the premises unless an invitation from a staff member has been extended to them.
Only service animals are permitted inside the Fundy Geological Museum.  All pets must leashed at all times on the museum grounds including the walking trail system. Please pick-up and properly dispose of pet waste. 
We hope that you enjoy your visit!
Visitor Code of Conduct (PDF 235KB)