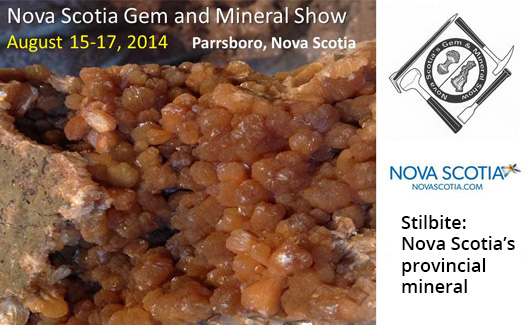 Nova Scotia Gem & Mineral Show and Sale
Come to Parrsboro for the 49th Annual Nova Scotia Gem and Mineral Show. Find and buy gem and foreign fossil treasures, unique jewelry and fine crafts. There is something for the whole family.
Parrsboro's Rockhound Roundup is one of the oldest mineral shows in Canada and in terms of sheer enjoyableness, it's considered to be the top! Exhibitors return each year from Ontario, Quebec, New Brunswick, Nova Scotia and Maine ready to enjoy the Maritime hospitality and meet new and old friends.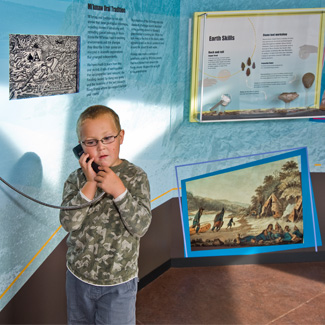 Come to Fundy Geological Museum to explore Nova Scotia's ancient past and discover the Triassic and Jurassic landscapes where Canada's oldest dinosaurs once roamed. Visit the museum's interactive gallery to learn about colliding continents; the formation of Pangea; warm shallow seas and coal swamps; local dinosaur discoveries; our frozen glacial past; and the birth of the Bay of Fundy.

Who We Are
The Fundy Geological Museum displays an ancient world and some of the oldest dinosaur bones in Canada. Meet some of the ancient creatures that lived here millions of years ago: the world's first reptiles, early dinosaurs, giant dragonflies, an ancestor of frogs and a sow-bug-like creature as long as a baseball bat. So many great fossils!
Explore mineral treasures of Nova Scotia exposed when the great Fundy tides washed away the sea cliffs. See a collection of beautiful amethyst and agate gem stones.
Admissions
Admission to Gallery 
Adults $8.00
Children $4.50 (ages 6 - 17)
Children under 5 years Free!
Seniors $6.50 (65 +)
University Students $6.5
Family $17.00 (2 adults and their children under 18 years)
Family $12.50 (1 adult & their children under 18 years)
Group rates 6.50