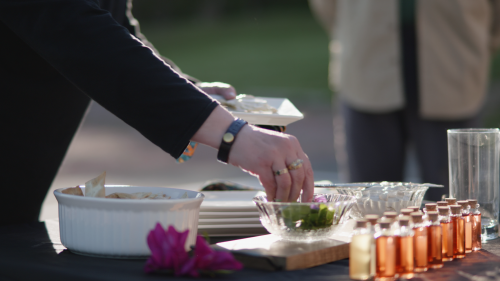 Geology meets gastronomy in this relaxing evening experience. Explore Wa'so'q/Partridge Island with all your senses, savouring local tastes from the Wild Caraway Restaurant and travelling through time with an expert from the Fundy Geological Museum.
The Experience... 
Walk the edge of the tide and immerse yourself in the sounds, tastes, and surprises at the heart of the Bay of Fundy. Discover the secrets of the island alongside expert geoscientists as you comb this scenic beach for mineral treasures. Explore the ever-changing shoreline with surprising tools, discover a variety of pebbles and plant life, and traverse the history of Wa'so'q, named by the Mi'kmaq to reflect this heaven on Earth. Experience the phenomenon of the 'bubbling tide' unique to Wa'so'q, and with the help of award-winning sound designer Aaron Collier, the sounds of your adventure will be forever in your grasp.
Wind down at the cozy and historic Ottawa House-By-the-Sea Museum while savouring one-of-a-kind drinks inspired and foraged in your surrounding landscape. Explore local tastes from the edge of the ocean crafted exclusively for you by the critically acclaimed Wild Caraway Restaurant. This evening experience is perfect for couples and travellers staying in the area.
Pricing Guide:
$250 for one person
$475 for two people
$712.50 for three people
$900 for a group of four
$1125 for a group of five
$1487.50 for a group of six.
 
To book your Shoreline Sensations at Wa'so'q experience, visit fundygeomuseum.ca or call toll 1 (866) 856 DINO (3466)
Please Note:
This experience must have a minimum of 4 people to run, up to a 10-person maximum. This is not a private excursion. Times are dependant on the tides. All relevant COVID-19 guidelines from the Government of NS will be in place. Please advise of any allergies at the time of booking. This experience is tailored to adults. All participants and guests are responsible for travel to Ottawa House Museum, approximately 4 km from the Fundy Geological Museum. Sturdy footwear is required. This is a rocky beach with moderate to challenging walking surfaces. Dress for fluctuating weather conditions as it can change quickly along the coast.
Cancellation Policy: Please allow for and give 48 hours' notice for cancellation on all pre-booked tours. We reserve the right to cancel due to bad weather and provide a full refund. A 20% charge will apply for guests who do not adhere to the cancellation policy.