Outcome-Based School Programs
A Day at the Beach, or A Night at the Museum!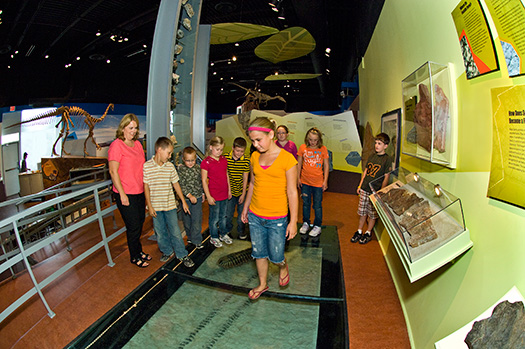 Join us in Parrsboro for an opportunity to learn about rocks, minerals, fossils and the Bay of Fundy! Explore the shore with a guide who will identify your treasures. The tide will be out, this is your turn to walk on the bottom of the sea. Learn the names and uses of local rocks and minerals. See Canada's oldest dinosaur bones. Discover our geology museum. Spend a night with the dinosaurs! Set up your bedrolls in the museum gallery. Take part in a workshop.​
We are only 100 kms from Truro or 60 kms from Amherst. Add on to your trip with a visit to the Springhill coal mine museum, the Ottawa House Museum or the new Joggins Fossil Centre.
Take advantage of our 3-5 hour day program including 

a museum tour, a workshop, and a field trip. 

Customized trips can be arranged.

Our 20 hour (7:00 pm - 3:00 pm) program includes 

meals, a museum tour, a field trip to a mineral or fossil 

beach and two workshops.

Our 24 hour (1:00 pm -1:00 pm) overnight program 

includes meals, a museum tour, two field trips and 

three workshops.
We welcome your calls and are happy to individualize your program. Book now! We look forward to seeing you at the Fundy Geological Museum in Parrsboro, N.S.
Program Options
Please note: Maximum 45 Students per group
Day trip (3-5 hours)
Out of province schools, $12.00 + tax (per student)

Nova Scotia schools, $8.00 +tax (per student)

Teachers and chaperones free

 

Choose one field trip and one workshop.
All overnight groups (below) pay a fee of $200.00 per group + tax for sleeping at the museum.
18 hour program (7:00 pm - 3:00 pm)
$50.00 + tax/per person

Choose one field trip and two workshops.
Meals
Day 1: evening snack,
Day 2: breakfast, lunch (hotdogs) and snack.
24 hour program (1:00 pm - 1:00 pm)
$63.00 + tax/per person

Choose two field trips and three workshops.
Meals
Day 1: supper, evening snack
Day 2: breakfast, lunch (hotdogs)
To register, please submit your completed form (PDF 147KB) to Regan by fax 902-254-3666 or email us at regan.maloney@novascotia.ca or call 1-866-856-DINO